Affordable Homes Centered on Community
A courtyard with two prominent evergreen trees, a grassy lawn, a play area, and pedestrian paths. It is bordered on three sides by apartments and townhomes with large windows and exterior walkways overlooking this central recreation and play space.





Sunset Court Apartments
Renton, WA
May 2015 – Aug 2018

Golden Nugget Award of Merit, 2020

The Sunset Court Apartments include 50-units of mixed-income housing distributed among four buildings, surrounding a central greenspace. Part of the site used to be a public park known for gang activity, so the inclusion of a safe, accessible central courtyard around which low-income families could create community became a central goal of the effort.

The development incorporates the principles of Crime Prevention Through Environmental Design (CPTED) and cohousing — to create a high sense of safety and security for the residents as well as a high level of community interaction. The central courtyard design allows for children to play in a natural and shaded environment with visual connections from every unit kitchen window, allowing all residents to informally monitor the safety and security of this shared, semi-public space.

The homes were designed to respond to the needs of the diverse resident population — including veterans and domestic violence survivors as well as a large population of African immigrants. These desires were outlined through a series of outreach events, where local community members were able to make comments about the proposed site plan, unit layouts, and case studies. Another major take-away from the outreach was the importance of having a variety of unit types — including those with separate dining and living spaces due to cultural preferences for socializing by gender in distinctly separate spaces.

The mix of unit sizes, including townhomes and flats, allow for families and individuals to feel at home. The project also incorporates many sustainable strategies, including passive stormwater management and materials with low/no Volatile Organic Compounds (VOC), edible landscaping, natural ventilation due to ample operable windows on at least two opposing sides of the unit, and exterior balconies to provide sun shading.

The residents of Sunset Court include many diverse ethnic and cultural groups, and many differently-abled populations below 60% AMI. Affordable 3-bedroom homes that accommodate larger families is rare, and Sunset Court is able to provide this for the community of Renton. The families at Sunset Court do not need to worry about overcrowding, unstable housing conditions, or about being burdened by rent increases. The design of Sunset Court creates a safe community for these individuals and families and serves a catalyst for change in the surrounding neighborhood. Sunset Court is one of many buildings contributing to the City of Renton and Renton Housing Authority's vision to transform a post-war public housing site to a vibrant mixed-use, mixed-income community.


Grace Kim
, AIA
Principal in Charge
Joann Ware
, AIA
Project Manager
Margaret Knigh
t, AIA
Project Architect
Guy Thomsen
, AIA
Technical Resource
Nakano Associates (landscape)
LPD Engineering (civil)
DCI Engineers (structural)
Walsh Construction (contractor)
Sider & Byers (mechanical engineer)
AES (electrical engineer)
Brawner & Company (dev. consultant)

A row of townhomes borders a large greenspace, with a small play structure and numerous pedestrian paths. Two people walk along the sidewalk directly outside the townhomes, and one person is behind them on a bike. On the grass, a family has a picnic.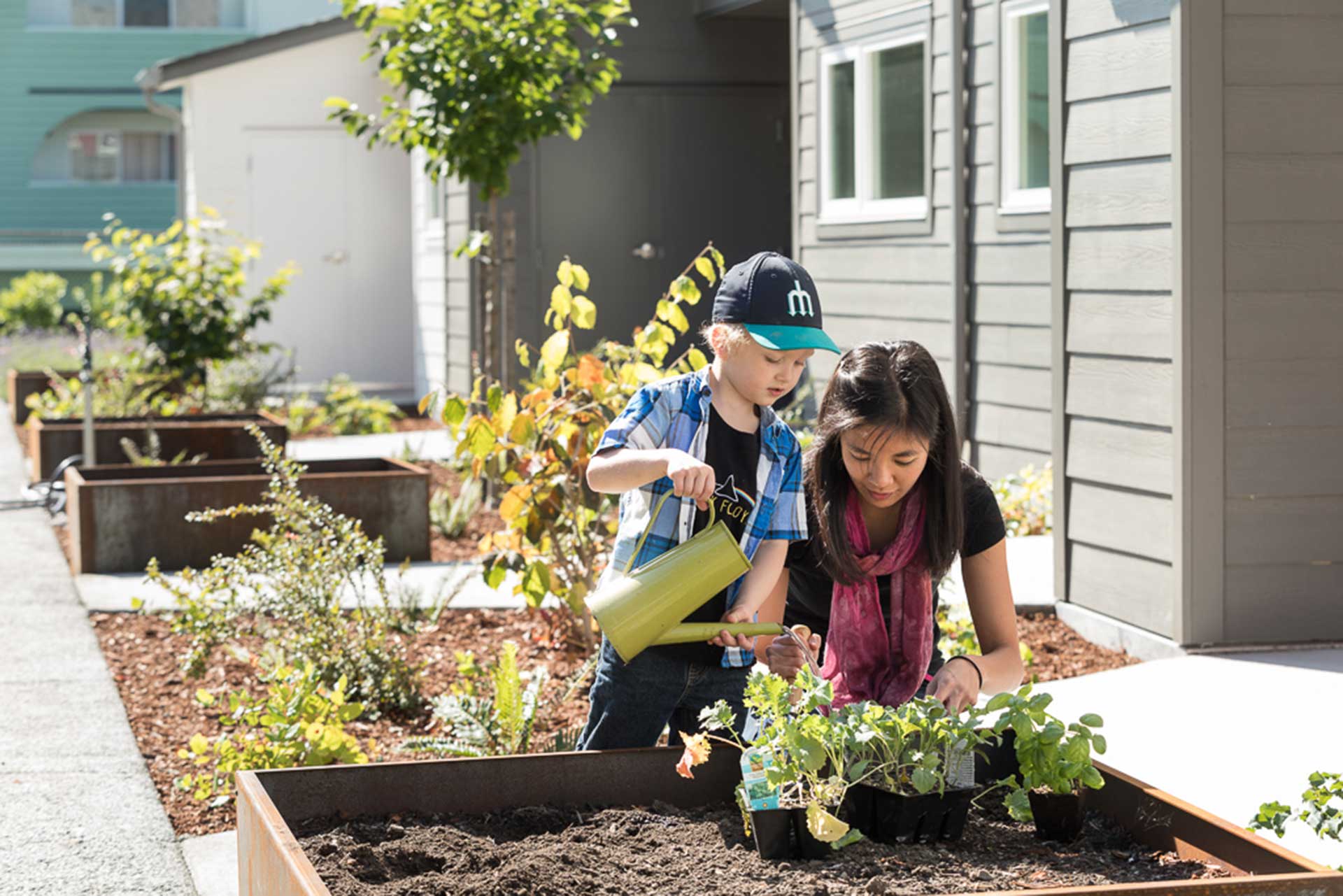 A woman and child tend to plants in raised beds outside the townhomes.
A large, mesh-enclosed structure filled with bicycles and outdoor equipment sits in the open space in front of the apartments. A person is bringing their bicycle back to store in the bike enclosure.